Lists of objects such as assets, workflows, tasks, and so on can be displayed in various forms in Dalet Flex. Example views include:
Search List View
The Search List view is displayed when you perform a search for objects in Dalet Flex. You can see the search box above the results grid, with details such as ID, Original Filename, Title, Size, Duration, Media Type, and so on.
You can select which columns you wish to view by right-clicking on the table header columns, and selecting / de-selecting the required fields from the pop-up that appears. Your preferences are saved for future use. You can also drag and drop columns to change the order in which they are displayed.
Fixed List View
The Fixed List view displays a fixed list of items without search fields. An example of this is when you go to the Resources screen. You will see a list view of all items or object types that you have permission to see. Fixed List views support field filtering and ordering at the top of the list. In order to change the order of the items in the list, simply click the arrow inside the header for that column.

If an object type supports user creation, and importing of objects, you will see New and Import options in the panel above the fixed list.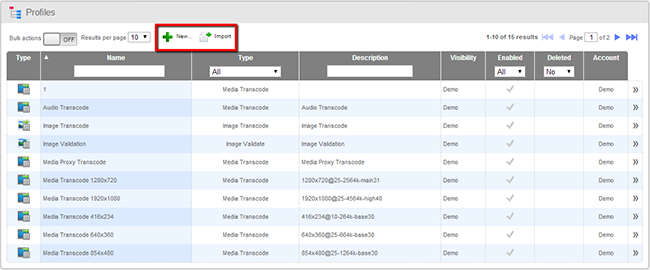 Card View
Some list views can be toggled to show a card view. The card view displays a grid of items. For example, in the case of assets, you can see a picture, technical format information, duration, the owner of the asset, and the modification date. The card view makes it easier to see the content of an object, where it comprises an image or a video. You can toggle between the search list view and card view as shown in the screen shot below.
When an asset supports a proxy, rolling over the image will show a play button, which enables you to play a preview of the content in this view.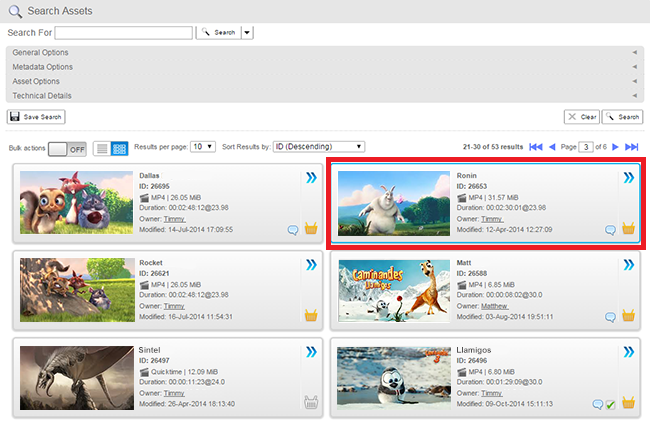 Within the Search List view, the Fixed List view, and the Card view, you can manage your results per page from 10 to 50 items.