The My Tasks page shows you a list of all task instances that are currently taken and not yet completed. You can use the Bulk Actions mode to select multiple tasks instances to start / resume or return to the pool. You can use the chevrons to work on individual task instances. Tasks are assigned as part of the workflow definition setup.
Tasks can be assigned to either user groups or users.

User Task Instances and Bulk Actions
From the My Tasks screen and the Task Search screens, you can select more than one task instance using bulk actions. When you choose to select more than one task instance to start at a time, then the tasks are "chained" together so that as soon as one task instance completes, you are taken directly to the start of the next task instance. This makes it easy to carry out multiple task instances rapidly.
Task Statuses
Task instances can exist in the following states:
Available: The task instance is available tousers in a pool.
Taken: The task instance has been taken by a user and is no longer in a pool.
Started: The task instance has been taken and started. Either a user is working on the task instance now or has done previously.
Cancelled: The task instance has been cancelled.
Completed: The task instance has been completed by the user that took the task instance.
Returning a Task to the Pool

By returning a task to the pool, you are moving it back into the Available Tasks list, the task becomes available to the wider pool and is then available to anyone that is assigned to that particular task assignment group.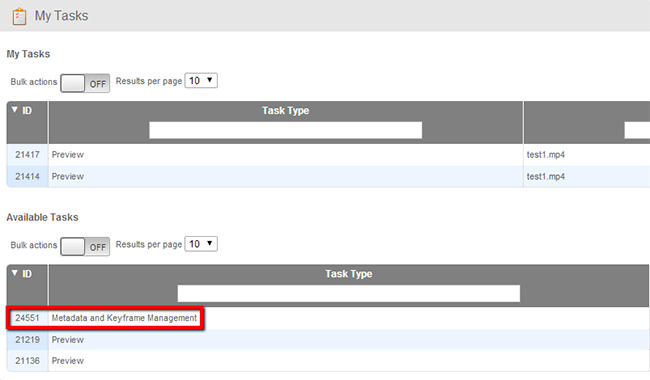 Acting as Another User
Switching can be very useful when a user has taken a task, but is unavailable or away from the office. If a user has switching permissions (defined in their role), they have the ability to act as a user and to either carry out the task, or return the task to the pool.
Select your User Profile in the top-right hand corner of the page.

In the User Details section, select the Switch sub-tab.

From the Act As drop down menu, select the user that you want to act as.

Click Go.

Your name in the top-right hand corner of the screen will now change to read (acting as ....). In this example you can see Matthew Carter (acting as Jon Folland).

Click the My Tasks button from the navigation panel, and carry out the task management process on behalf of the user.
The act as functionality needs to be enabled on your role setup to give you access.