Application Management
In the Application Settings menu add global settings for your account/sub-accounts and add settings to customize FlexMAM.
When you select the Application Settings menu,

, the Application Management screen opens and the accounts and sub-accounts in your environment are displayed in the Object List.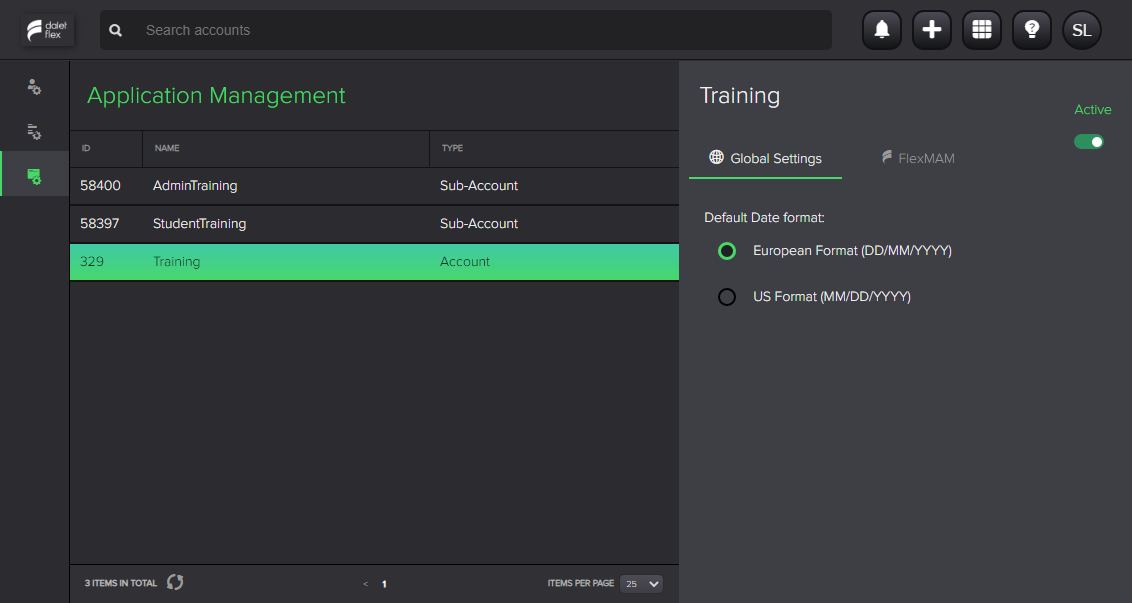 Select an account or sub-account to view its application settings in the Summary tabs.
If you have only one account on your environment, the Global Settings tab for the account is displayed.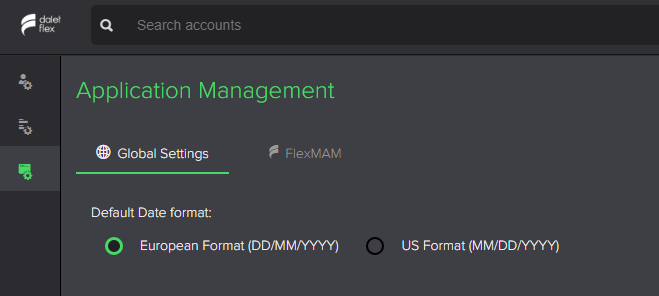 In the Summary panel, you can view and edit some of the settings for the selected account in these tabs:
Global Settings: Set the global settings for the accounts/sub-accounts
FlexMAM: Add parameters to customize the behavior in FlexMAM and its interface
The following parameters can be set in the Global Settings tab: Default Date format Select the European or US date format
The following parameters can be set in the FlexMAM tab




Default View Grid: Select a default grid type from table or tile
Default Table Template/Default Marker Template: Select a table/marker template to be used as default instead of the system default template
Default Clip Bin name: Customize the default clip bin name. If you do not add a name here, the default clip bin name is Clip Bin.
Audio track ordering: Select whether you want the audio tracks/waveforms of your assets are ordered by Name or Stream Index
Image asset preview: Set whether image asset preview uses the parent asset (JPEG?PNG?GIF up to 5MB) or the proxy asset. If you select proxy asset and no proxy is available, image preview is not displayed.
Expanded Metadata Complex Fields: Select the default display style for complex metadata fields in FlexMAM. Select the checkbox for expanded or leave unchecked for collapsed.
Show "Run..." option for assets: Select the Show "Run..." option for assets checkbox to display the Run option in FlexMAM
Account Default Language: Select the language for the FlexMAM interface.